Referral Program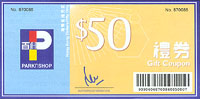 Just tell your friends and business partners to sign up for any hosting services, and ParknShop Cash coupons will instantly slip into your hands! Effective from now, for every successful referral of ABCHK's services, you can be entitled to ParknShop Cash coupons (HK$50 each). The more friends and partners you refer to us, the more cash coupons you will get!
| | |
| --- | --- |
| 1st payment made by referees for any hosting plans (net price after discount) | No. of ParknShop coupons to referrer (HK$50@) |
| HK$500 or below | 1 |
| HK$501-HK$1,000 | 2 |
| HK$1,001-HK$1,500 | 3 |
| HK$1,501-HK$2,000 | 4 |
| HK$2,001-HK$2,500 | 5 |
| HK$2,501-HK$3,000 | 6 |
| HK$3,001-HK$3,501 | 7 |
| Above HK$3,501 | 8 |
Referral Program -- Terms & Conditions:
The offers of Referral Program cannot be used in conjunction with other promotional offers provided by our company. Referrer can only enjoy either reseller benefits or referrer benefits at one time but not both in each independent successful referral case.
After referee has settled the bill & job completed of our services (exclusive of domain name registration fees and value-added service fees), a cash coupon will send to you by post within 30 days. Cancellation of orders by referee within 1 month will be treated as unsuccessful referral order and no coupon will be given to referrer.

The cash coupons will be entitled to referrer according to the following scheme. In each independent successful referral case, a maximum of 8 coupons will be give to referrer (total value: HK$400). The successful referral amount (Net 1st payment made by referees) cannot be carried forward to the other referral cases.

The cash coupon cannot be exchanged for other products, services or service fee discounts.

ABCHK bears no liability for the cash coupons after delivery to referrer.

In case of disputes over coupon redemption, the decision of ABCHK shall be final.